Christian music has come a long way since the first time Jesus followers dared to strap on electric guitars despite initial resistance from the conservative majority. As time has passed, the Christian sub-culture has warmed to the idea, and forming a rock band under the steeple is generally considered acceptable these days.
Because Christian rock was late on the train, it has taken significant time for the genre to "catch up." Bands have popped up everywhere attempting to communicate the gospel in creative ways, but are typically lambasted for looking like posers or trying way too hard to sound legit. But some bands have managed to dodge criticism and ascend to greatness, still holding true to their Christian roots while catering to listeners beyond the devout.
What factors specifically makes these bands distinct as "the greatest"?
Innovation: If you hear these bands on the radio, you actually think of their unique sound rather than "some Christian band."
Pioneer: Most of these guys did something unprecedented in the Christian music industry.
Longevity: Your pops might have listened to a few of these groups in high school. Longevity means you have something good going.
Album sales: Millions of records sold can't be wrong.
25. Red
If you search for "Red" on Google, you'll likely stumble upon the multi-platinum album released by Taylor Swift.  If you dig a little bit further, however, you'll discover a unique group of guys brandishing a scorching sound and near-operatic vocal arrangements.
Red has a fair following in the post-hardcore scene, both in Christian circles and beyond, and they're still relatively fresh on the market. Time will determine their worth as more similar sounding bands come about.
24. Demon Hunter
As the name likely permits, Demon Hunter is a thrash-and-growl type of band that certainly appeals to any metal fan. Often times their dark persona and punch-to-the-face delivery confuses Christian music fans, causing one to wonder if they're really serious about Christ or even remotely friendly people, but I'm sure they're nice guys.
Their mild success can be attributed to their longevity in the market as well as being a pioneering force for hardcore Christian metal bands.
23. Family Force 5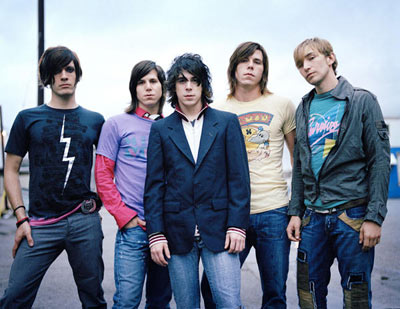 The brothers of FF5 refuse to be pigeon-holed into a genre, but one thing is for certain: they're a little quirky.
They have a remarkably large library of party anthems for being branded in the Christian market, and they'd, in some ways, rather not be associated with that label, which explains their inclination to write borderline secular albums.  This fence-walking is actually hurting their sales on both sides; FF5 looks like posers to the mainstream, and compromise Christians to the other. Nonetheless, they're innovative and popular enough to make this list.
22. The O.C. Supertones
Riding the ska trend, the O.C. Supertones managed to accrue a rabid following in the late 1990s, surging into popularity as a headlining Christian act. Of course, once ska became old hat, the brass grew quieter and they fell off in the mid-2000s.   They've made a recovery recently, which might be worth some attention. However, their best days are behind them, and they belong in the hall of Christian history as the greatest Christian ska band ever.
21. Delirious?
It's difficult to ignore the British influence (Oasis, anyone?), but Delirious? undeniably stands alone as the biggest overseas Christian rock group in the U.S. Their memorable and powerful rock ballads and anthems resonated with the alt-rock hungry generation of the late 90s, meanwhile stretching the boundaries of what's considered palatable in worship music.
20. Project 86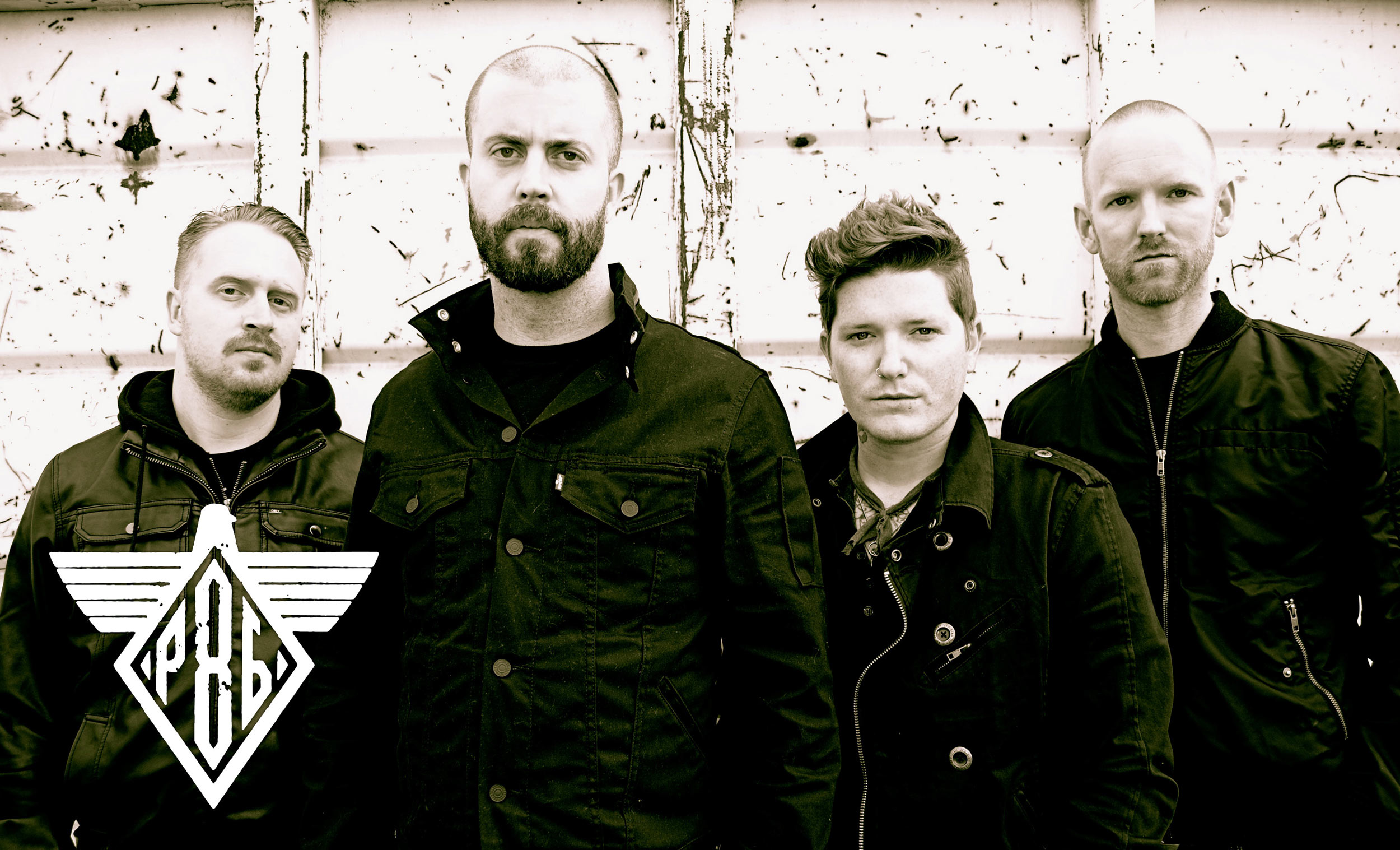 Few bands work harder than Project 86 in the Christian industry, and their longevity has proven their weight. Frontman Andrew Schwab could be regarded as a Christian version of Trent Reznor — artistic, innovative, and incredibly articulate.
For being under the radar for nearly their entire existence, they've sold a surprising number of albums and toured for over a decade, making them one of the greater hard rock groups. Few bands sounded quite like them when they started out, and many have attempted to copy them since.
19. Casting Crowns
I confess, I waffled with keeping this group on a list of greatest Christian rock bands, but apart from the KLOVE hits, the level of punch Casting Crowns produces in their compositions is surprising.  They barely qualify on this list because of their sound and CCM leanings, but their impression on Christian music has been remarkable. 5 million records sold in the SoundScan era shows their staying power.
18. BarlowGirl
All female bands are not new, but nothing like BarlowGirl had been seen in the Christian music industry when they released their debut album in 2004. Borrowing from the sound of  Heart, Veruca Salt, and occasionally the Bangles, BarlowGirl renewed our interest in female driven acts and provided a refreshing alternative to the princess-style contemporary female artists dominating Christian radio.
17. Switchfoot
Many might argue that this group's positioning on the list is quite low, and I agree to some extent.  The key difference between Switchfoot and other bands, however, has been their desire to shirk association with Christian music (despite such stations continuing to play their material relentlessly) and their inherent lack of pioneering traits.
Unquestionably, Jon Foreman's vocal delivery and the band's universal songwriting style are distinctions, alongside over 3 million records sold, but in terms of Christian music, it's nothing we haven't seen before.
16. Thousand Foot Krutch
Canadian act TFK appeared in the late 90s brandishing a nu-metal sound, unheard of and a bit abrasive to the decade's Christian music trends, but they imitated the likes of popular bands Linkin Park and 311 well enough to draw a small underground following. Their sophomore album, however, truly put them on the map as a distinct Christian band worth listening to.  Trevor McNevan and company have continued hanging around, touring heavily and rocking faces off with hard-hitting guitar riffs and lyrics warranting a call to action.
15. Kutless
When Kutless began, their sound was raw, unpolished and completely different from anything on Christian radio at the time. Subsequently, they got serious attention with slow-jams like "Run" and "Sea of Faces", decided to put out a worship album, and have ridden the CCM train since.  Kutless still rocks on occasion, but their sound has morphed into something else not so much different than what the other big tuna artists in the market are doing.  Nonetheless, they've made their impression, and their record sales prove it.
14. Superchick
Before Superchick arrived on the scene, Gwen Stefani's No Doubt had already paved the road for their type of sound, but Superchick hit the ground running and acquired momentum immediately.  Blending hip-hop, alt-rock, and a little bit of funk, they gave Christian radio an alternative, and people liked it. To date, there is no Christian equivalent that has found the same success.
13. Audio Adrenaline
Audio A was a big favorite in the mid- to late-90s, featuring a polished straight-up rock and roll sound that captivated youth who had grown tired of hearing the same old stuff. Indeed, Audio Adrenaline isn't distinct in the general terms of rock music, but their success proves their solid songwriting and guitar prowess is catchy enough for everyday listeners to hold onto.
Kevin Max, formerly of the legendary dc Talk, re-emerged to head the band for a time and the group has been kick-started anew, much to the delight of old school fans.
12. David Crowder Band
While David Crowder attended Baylor, he inspired a generation of college peers to renew their fervor for worship with a somewhat funky, dynamic style while maintaining ardent focus on God. They continued on to stir up millions more around the country with their brand of rock worship music for over a decade before splitting up in early 2012. If you're a Christian, you're likely to own one of their albums and have a few of their tracks on repeat on occasion.
11. Third Day
Southern rockers Third Day have enjoyed immeasurable success in the context of Christian music over their long tenure, consistently headlining and churning out music to satisfy various fans' tastes. Unlike many of the bands on this list, Third Day's lineup has remained almost entirely intact for several years, which explains how they've been able to keep their distinct sound unaltered. Mac Powell's signature voice has warranted imitations in jest, sometimes on live radio.
10. Flyleaf
This hard rock act rose to stardom in the late 2000s, and Christian music fans didn't see it coming until Flyleaf hoisted up their RIAA Platinum award and showed their stuff as a legitimate force in the mainstream.  They've had to fend off being branded a "Christian band" to maintain universal appeal, but their talent has kept them at a level ahead of their peers on both sides of the fence. Former lead singer Lacey Sturm really made this band work; they've continued with a replacement, but we'll have to wait and see if Flyleaf will stay its course.
9. Jars of Clay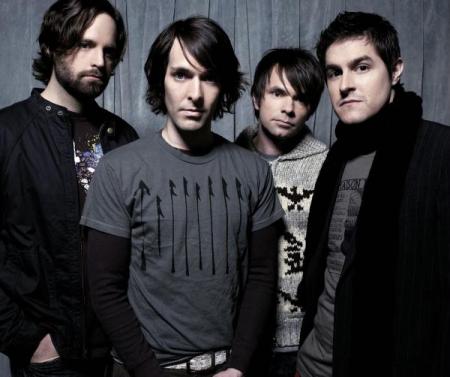 These guys flooded the scene in the mid-90s (see what I did there?) and have kept it up for two decades. Still a huge favorite for many Christian listeners, Jars of Clay started out with five consecutive gold records, but their sales have slowed slightly as artists like Jeremy Camp and Casting Crowns have taken over the throne as the big contemporary/rock crossovers. Their earlier acoustic rock material still seems fresh; their debut album resonates as one of the best works Christian music has to offer.
8. Stryper
There was a time when big hair and stretchy pants made for a great rock image. Recognizing this, Stryper donned the glam rock persona and put together a string of under-the-radar hits in the 80s to establish a legacy as the first real crossover success. It required major image compromise at the time, but the Christian rockers did what they had to do to get noticed (and get some sales), and it worked.  Stryper is somewhat of a joke to most rockers, but their mark is undeniable.
7. Underoath
In an era when Christian hardcore acts were just getting noticed, Underoath showed up with a fiery crossover act that generated plenty of attention and equated to two gold albums. Christian listeners were shocked that a Christian group could produce quality metal, and non-Christian listeners were shocked that a quality metal group could be a group of Christians. Aaron Gillespie's impassioned vocal delivery and Spencer Chamberlain's growl and howl complemented scorching guitars beautifully on their crown work, "They're Only Chasing Safety".
6. Skillet
Industrial/tech rock turned symphonic metal act Skillet has seen remarkable success recently, but it's no fluke.  Skillet boasts a rigorous touring schedule and high intensity shows, making them one of the hardest working bands in the business, Christian or otherwise. Their determination to be the best at what they do while keeping their integrity intact makes them a high caliber group worth all of the praise they're given. It doesn't hurt that the frontman and his wife are the hardest rocking spouses of all time, and — if I might be so bold to say so — their drummer is the best female drummer I can think of.
5.  dc Talk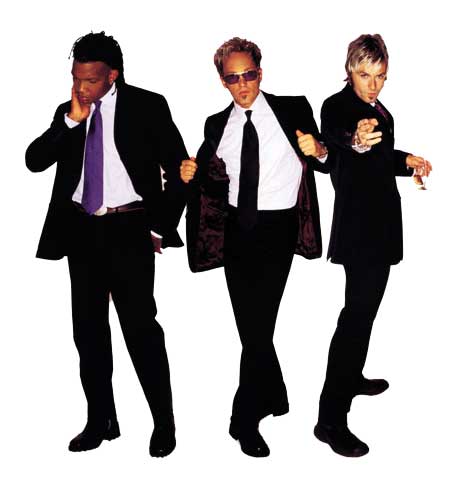 Some might say dc Talk is the most talented band on this list — and they'd be right. Just take a look at what the trio has done since splitting up in 2000; the group had so much star power, they might have simply imploded if they remained together. In their relatively short tenure, they produced three platinum records at a time when there were few alternatives for Christian music available.
4. Petra
If you ask any successful Christian rock act where they got the idea to start a band that attempts to glorify God, they must point to Petra. At the same time Jesus Music was blooming on the west coast in the early 70s, Petra assembled and set a standard for Christian rock music that few bands could muster to duplicate until much later. They're like the Rolling Stones of Christian music — they just don't quit. I think they're still going at it, in fact.
However, despite their longevity and lack of precedent, Petra has managed to change band members more often than some of us get a tuneup.
3. Relient K
What makes Matt Thiessen and company distinct as the #3 Christian rock band of all time has to do with their development over time, their unbelievable songwriting capabilities, and overall innovative traits that no other band on this list can rival. Featuring pop and punk savvy, appealing to unbelievers despite religious undertones, never taking themselves too seriously, and avoiding cliche musical ruts, Relient K has grabbed the attention of critics as a standalone group . Rather than operating as a "Christian band", Relient K shows us what it's like to be alive and struggling to live for God in ways no other Christian group does.
2. P.O.D.
The only bands that spending any significant time on MTV that brandished (or even remotely flashed) Jesus by the late 90s were dc Talk and Jars of Clay. P.O.D. decided to fix that with their album "The Fundamental Elements of Southtown." Their subsequent record made them regulars on mainstream radio. 12 million album sales later, they're slated as the #2 greatest Christian rock band of all time.
What's remarkable is that no one really sounds like P.O.D. Their work seems effortless, yet complex, introspective, and authentic. Meanwhile, they'll rock your face off, if you're not careful.
1. Newsboys
Who else belongs at the top? If you're a Christian, you know who the Newsboys are, have at least one of their songs memorized, and likely have a strong opinion about whether Peter Furler or Michael Tait makes a better lead singer.
Even retooled, the Newsboys found success as the quintessential Christian band, rock or otherwise, and have shown  consistent, unmatched prowess both on stage and in the studio.
Honorable mention: Hawk Nelson, Disciple, The Afters
Do you agree with this list? Write your comments below!